You will get a "Login Bonus" prize on your first login every day. These prizes range from Jewel and Drops to items!
If you log in for 7 consecutive days, the character limit for messages which you can leave in your friends' rooms will be increased from 40 to 140 characters! Log in every day and talk with your friends! If you miss a login day the limit will be reset back to 40 characters.
Precautions
Edit
Login Bonus resets at 00:00 (PDT/PST) every day.
The Stamp sheet will change at 00:00 (PDT/PST) on the first of each month.
The Login Bonus rewards will change each month.
Login Bonus rewards will be sent to your Gift Box.
If you forget to login, you can gain extra Stamps by using Event Girls.
Limited Login Bonus
Edit
See this page for information on login campaigns, where you will receive the normal Login Bonus items in addition to the Limited Login Bonus Rewards by logging in during the campaign period.
Limited Monthly Outfits
Edit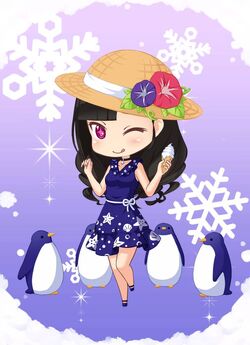 | Image | Name | Type |
| --- | --- | --- |
| | Straw Hat of Morning Glory | Head Acc |
| | The Staring Penguin | Back Acc |
| | Ice Cream Girl | Clothes |
Stamp Sheet
Edit
Day 1
Day 2
Day 3
Day 4
Day 5
500 Jewels
500 Drops
Candy x1
Time Pencil 5 x1
Raffle Ticket x1
Day 6
Day 7
Day 8
Day 9
Day 10
Green Mist x1
Expansion Closet +5
[Limited Acc #1]
500 Jewels
500 Drops
Day 11
Day 12
Day 13
Day 14
Day 15
Candy x1
Time Pencil 5 x1
Green Mist x1
Expansion Closet +5
Event Girl x1
Day 16
Day 17
Day 18
Day 19
Day 20
[Limited Acc #2]
500 Jewels
500 Drops
Shepherd's Purse x1
Green Mist x1
Day 21
Day 22
Day 23
Day 24
Day 25
Expansion Closet +5
Time Pencil 10 x1
1000 Jewels
[Limited Outfit]
1000 Drops
Day 26
Day 27
Day 28
Day 29
Day 30
Shepherd's Purse x1
Green Mist x1
Expansion Closet +5
Time Pencil 10 x1
Fairy Gacha Ticket x1
Day 31
Time Pencil 30 x1